Roll-Off
Schaap Sanitation has the largest inventory of open top roll-off containers and trucks in Southwest Minnesota to suit your project's waste collection needs – from small home remodeling and clean-out projects to large-scale construction jobs.

So, whenever you have a project or special event that creates more waste than your regular Schaap Sanitation trash cart can hold, contact our office at 800-293-5642. One of our sales representatives will be happy to meet with you or your contractor to determine the right size roll-off and level of service to make your project more manageable.
Why You Should Consider A Roll-Off
Convenient
Cost-effective
Safe containment of debris
Delivery and removal on your schedule – on-demand or on a regular basis
Saves you the hassle of hauling waste to the landfill
Call our SW Minnesota trash services office at 800-293-5642 to learn more about furnishing a quick and efficient set-up by our experienced and DOT approved employees.
ROLL-OFF SIZES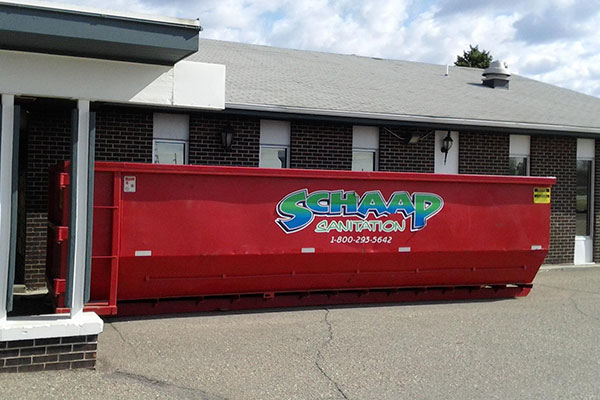 | Open Top | L x W X H |
| --- | --- |
| 10 Cubic Yards | 14' x 7' x 3' |
| 15 Cubic Yards | 18' x 7' x 3' |
| 20 Cubic Yards | 18' x 7' x 4' |
| 25 Cubic Yards | 20' x 7' x 4' |
| 30 Cubic Yards | 22' x 7' x 5' |
| 40 Cubic Yards | 22' x 7' x 6' |
Container Safety Tips
Containers should never be positioned underneath overhead power lines to avoid danger of electrocution or damages to vehicles.
Toxic, hazardous, or flammable materials are not allowed in the containers.
Do not overload the containers – for heavy material such as concrete, do not fill the container more than 1/2 full.
Keep children away from all containers.
Do not place a container on a concrete slab or driveway as some concrete will crack under the heavy weight of a full container.
Roll-Off Materials Guidelines
Due to safety and legal reasons, not all materials can be placed in a roll-off container. If you have any questions about what is allowed and what is not, please do not hestitate to email us or call 800-293-5642.