Commercial
Commercial Garbage Service
For your business, Schaap Sanitation provides commercial garbage collection throughout SW Minnesota up to 6 days a week.
Acceptable Commercial Garbage Items
Normal non-hazardous household waste
Cat litter or small animal waste (if double bagged)
Unacceptable Commercial Garbage Items
Ammunition, fireworks
Ashes, hot or cold
Batteries, vehicle
Concrete, dirt or rocks
Dead animals
Electronics, computers, TVs
Household Hazardous Waste
Liquids
Medical waste
Motor oil
Propane tanks
Sharps (needles or syringes)
Tires
Un-bagged packing pellets or sawdust
Yard waste
Yard waste IS NOT ALLOWED in your Schaap Sanitation trash or recycling carts. Check with your local towns for SW Minnesota compost sites.
Commercial Waste Containers
| Rear Load | L x W x H |
| --- | --- |
| 1.5 Cubic Yards | 5' x 3' x 3' |
| 2 Cubic Yards | 5' x 3.5' x 3.5' |
| 3 Cubic Yards | 5' x 6' x 3' |
| 4 Cubic Yards | 5' x 6' x 3.75' |
| 6 Cubic Yards | 5' x 9' x 4' |
| 8 Cubic Yards | 5' x 12' x 4' |
Compactors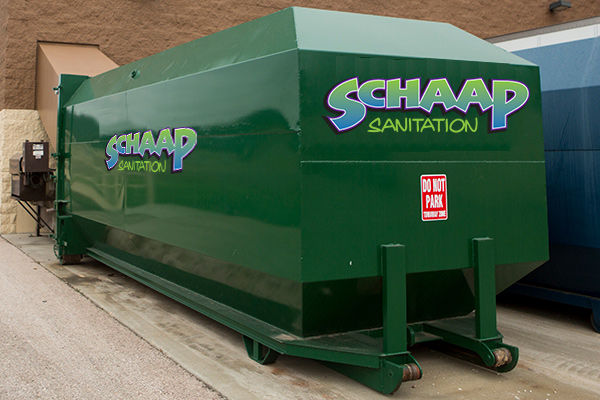 Schaap Sanitation is a full service waste management company that sells and services commercial compactors in their service area. Not only is compacted waste is easier to manage and neater, compactors also:
Cut operational costs
Increase efficiency
Enhance worker safety
Improve aesthetic value of your business
To learn how a stationary compactor or self-contained compactor could help your business, please call 800-293-5642 or email a Schaap commercial sales representative.
Commercial Recycling Service
Schaap Sanitation is proud to help your business become more sustainable and environmentally-minded. By offering Single Stream Recycling to all of our commercial trash collection customers, we also make it easy to dispose of your recyclables in one simple step.
Acceptable Commercial Recycling Items
Paper: Office Paper, Magazines, Phone Books
Mixed Paper: Newspaper, Junk Mail, etc.
Cardboard: Corrugated Cardboard & Boxboard
Metal Cans: Aluminum & Steel
Plastics: Plastic Bags & #1-7
Glass: Unbroken wine, beer, and soda bottles
Milk and water jugs
Laundry detergent bottles
Unacceptable Commercial Recycling Items
Buckets
Used oil containers
Chemical/pesticide containers
Broken glass
Electronics
Styrofoam
Ceramics
Light bulbs
Window glass or mirrors
Yard waste - Yard waste IS NOT ALLOWED in your Schaap Sanitation container. Check with your municipality for the closest Southwest MN compost site.
Additional Southwest Minnesota Recycling Centers
Adrian City Lot, Adrian
Brewster City Shed, Brewster
Dundee City Shed, Dundee
Ellsworth City Shed, Ellsworth
Leota Christian School, Leota
Reading Community Center, Reading
Round Lake City Shed, Round Lake
City Water tower, Wilmont
Ace Hardware, Oxford Street, Worthington
Nobles County Recycling Center, Hwy. 60 South of Worthington
Extra Garbage and Oversized Items
Extra garbage and special pickup in Southwest Minnesota will be taken for a small additional fee. Extras and special pickups will be left unless Schaap Sanitation has received a phone call granting permission to take them.
Call our office at 800-293-5642 on the day before your regular SW Minnesota trash service to schedule the extras and/or special pickup to be taken.
Larger items are treated the same as any extras or special pickups. There is an additional cost, so please call 800-293-5642 to get the cost of a specific item, as the prices vary.
Commercial Billing
Billing frequency: SW Minnesota trash and recycling for business accounts are billed on the 1st of every month. Your Schaap Sanitation commercial trash and recycling payment is due on or before the 20th of that same month.
Payments accepted: Online Bill Pay, Visa and MasterCard
Visit our BILL PAY page to pay for your Southwestern MN commercial trash and recycling service.