Residential
Residential Garbage Service
Schaap Sanitation expertly provides the most reliable residential garbage removal in the Southwest Minnesota region. Contact our office at 800-293-5642 to set up your residential garbage subscription service.
Weekly residential garbage collection is performed on Monday through Friday.
Please set your Schaap Sanitation residential waste container along the sidewalk or curb the night before your service date.
Acceptable Residential Garbage Items
Normal non-hazardous household waste
Cat litter or small animal waste (if double bagged)
Unacceptable Residential Garbage Items
Ammunition, fireworks
Ashes, hot or cold
Batteries, vehicle
Concrete, dirt or rocks
Dead animals
Electronics, computers, TVs
Household Hazardous Waste
Liquids
Medical waste
Motor oil
Propane tanks
Sharps (needles or syringes)
Tires
Un-bagged packing pellets or sawdust
Yard waste
Yard waste IS NOT ALLOWED in your Schaap Sanitation trash or recycling carts. Check with your local towns for SW Minnesota compost sites.
Residential Garbage Cart Sizes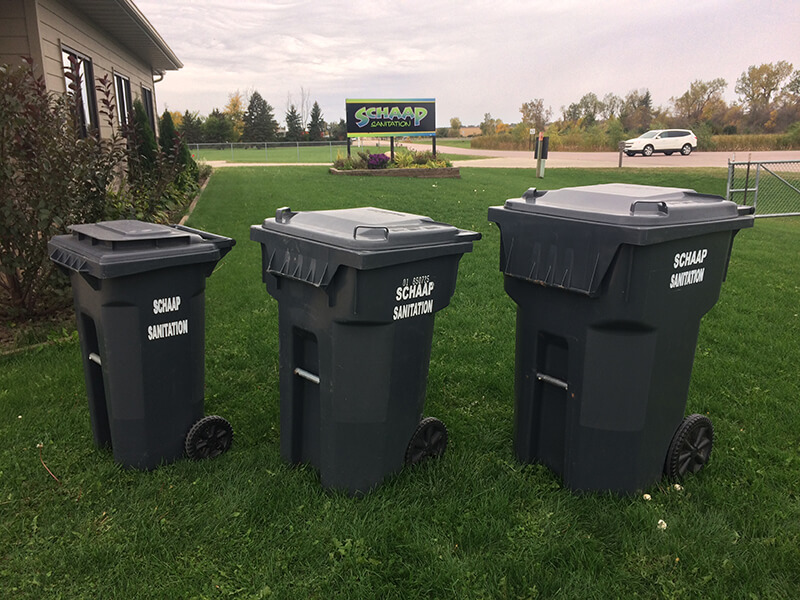 | Cart Size | Holds About |
| --- | --- |
| 35 Gallon | 1 ½ Kitchen Bags |
| 65 Gallon | 3 Kitchen Bags |
| 95 Gallon | 5 Kitchen Bags |
Residential Recycling Service
Because Schaap Sanitation is dedicated to sustainability and environmental stewardship in our communities, we proudly offer Single Stream Recycling to all SW Minnesota subscription trash collection customers.
Your Southwest Minnesota Recycling Carts should be placed curbside next to your residential trash cart on the night before your regularly scheduled garbage collection.
Acceptable Residential Recycling Items
Paper: Office Paper, Magazines, Phone Books
Mixed Paper: Newspaper, Junk Mail, etc.
Cardboard: Corrugated Cardboard & Boxboard
Metal Cans: Aluminum & Steel
Plastics: #1-7
Glass: Unbroken wine, beer, and soda bottles
Milk and water jugs
Laundry detergent bottles
Unacceptable Residential Recycling Items
Buckets
Used oil containers
Chemical/pesticide containers
Broken glass
Electronics
Styrofoam
Ceramics
Light bulbs
Window glass or mirrors
Yard waste - Yard waste IS NOT ALLOWED in your Schaap Sanitation container. Check with your municipality for the closest Southwest MN compost site.
Residential Recycling Cart Sizes
| Cart Size | Holds About |
| --- | --- |
| 65 Gallon | 3 Kitchen Bags |
| 95 Gallon | 5 Kitchen Bags |
Additional Southwest Minnesota Recycling Centers
Adrian City Lot, Adrian
Brewster City Shed, Brewster
Dundee City Shed, Dundee
Ellsworth City Shed, Ellsworth
Leota Christian School, Leota
Reading Community Center, Reading
Round Lake City Shed, Round Lake
City Water tower, Wilmont
Nobles County Recycling Center, Hwy. 60 South of Worthington
Extra Garbage and Oversized Items
Extra garbage and special pickup in Southwest Minnesota will be taken for a small additional fee. Extras and special pickups will be left unless Schaap Sanitation has received a phone call granting permission to take them.
Call our office at 800-293-5642 on the day before your regular SW Minnesota trash service to schedule the extras and/or special pickup to be taken.
Larger items are treated the same as any extras or special pickups. There is an additional cost, so please call 800-293-5642 to get the cost of a specific item, as the prices vary.
Small Project Dumpsters
When you have a clean-up or residential remodel that creates more waste than your Schaap Sanitation trash cart can handle, it's time to consider a small project dumpster.
Small Project Dumpsters by Schaap Sanitation are a convenient and safe way to contain demolition/construction or clean-up debris. We provide a wide variety of construction containers and open top roll-offs.
Why You Should Consider A Dumpster or Roll-Off
Convenient
Cost-effective
Safe containment of debris
Delivery and removal on your schedule – on-demand or on a regular basis
Saves you the hassle of hauling waste to the landfill
Call our SW Minnesota trash services office at 800-293-5642 to learn more about furnishing a quick and efficient set-up by our experienced and DOT approved employees. Our sales representative will meet with you or your contractor to determine exactly what size is needed to get the job done.
Dumpster Sizes


L x W x H

2 Yard
available with wheels
5' x 3.5' x 3.5'

3 Yard
available with wheels
5' x 6' x 3'

4 Yard
5' x 6' 3.75'

6 Yard
5' x 9' x 4'

Roll-Off Sizes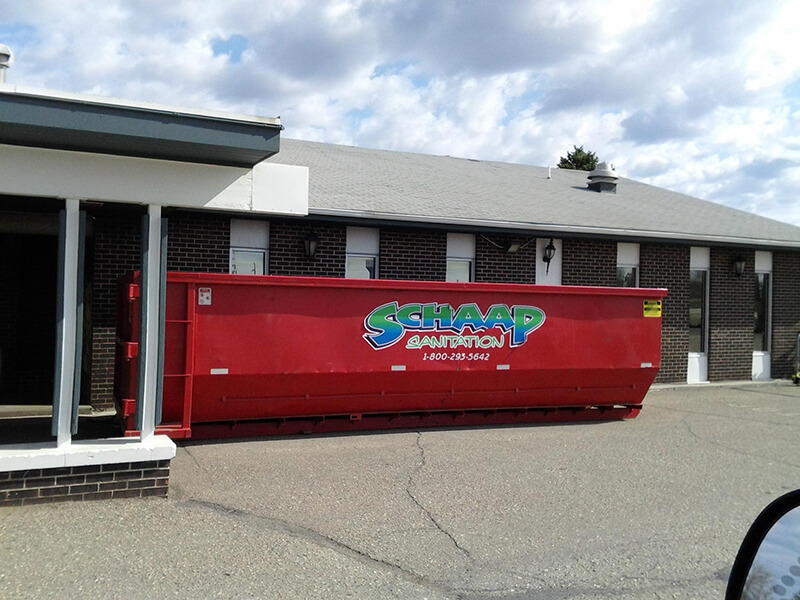 | | |
| --- | --- |
| | L x W x H |
| 10 Yard | 14' x 7' x 3' |
| 20 Yard | 22' x 8' x 3'5" |
| 30 Yard | 22' x 8' x 5' |
Residential Billing
Billing frequency: Residential SW Minnesota trash and recycling customers are billed on a monthly billing cycle.
Payments accepted: Visa pnd MasterCard
Visit our BILL PAY page to learn how to pay online, by phone or by mail your residential Southwest Minnesota trash and recycling service.